Recruiting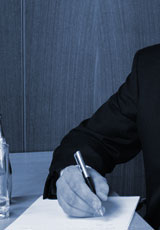 Your benefit
Save time
The search process to fill a job vacancy is often very time-consuming. The process may even need to be repeated several times with all the associated costs and loss of time. The risk that day-to-day tasks are neglected is a major one.
Let us do the work and in this time you can continue to concentrate successfully on your core business. The duration of our projects is on average 5 – 6 weeks.
Be certain
Play on the safe side. Take advantage of our success guarantee. Our quota is almost 100%.
Benefit from our long years of experience, our extensive knowledge of the sector and our systematic and analytical approach. Let us quickly find suitable candidates for you. That's what we stand for, that's our business.
Make the right choice
With our mix of various search methods (direct approach, Internet, newspaper advertisements, database) we are able to operate quickly and specifically according to your needs.
We select out technically qualified candidates who match your specified personality profile and who suit your team.